Sarah Paulson: Mental Toughness
---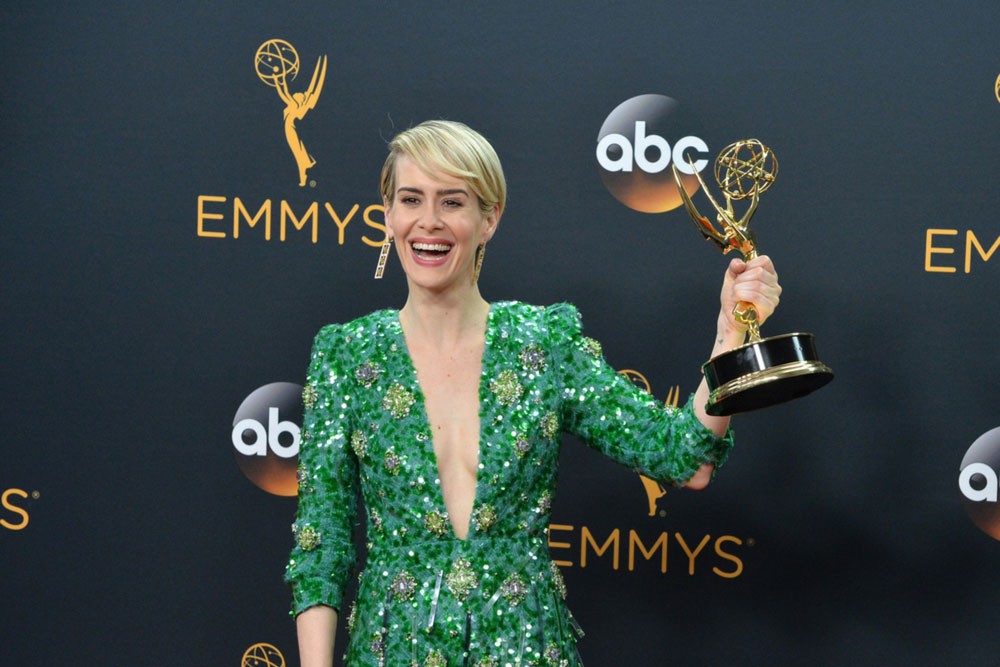 Image credit: Featureflash Photo Agency/Shutterstock, Inc.
Actress Sarah Paulson, daughter of Solo Mom Catharine Paulson, responded with authenticity and grace when accepting her first-ever Golden Globe in January 2017. Named Best Actress in a Limited Series for her role as Marcia Clark in the limited TV series The People v. O.J. Simpson: American Crime Story, Paulson acknowledged the integrity and strength of the woman she'd portrayed on film: "To Marcia Clark, you are an inspiration to me; if I could live my life with a fraction of your wit, integrity, an unapologetic fierceness, I would be on the road to doing it right. Thank you."
Paulson, who in September 2016 also won an Emmy Award for her portrayal of Clark, brought compassion to her role. She showed us the woman beneath the public figure, a woman who was criticized and ridiculed for everything from the style of her hair to the color of her lipstick. And she drew from her own experiences. As she told eonline.com after her Emmy win, "I started to think about . . . what [my sister and I] had endured as the child[ren] of a single parent. I know what it was like to be the child of someone working and trying to mother. . . . Playing Marcia gave me a whole panoramic view of what that was like."
Her current recognition draws attention to a deep, nuanced body of work, including appearances in consecutive seasons of American Horror Story (Paulson's roles ranged from that of medium Billie Dean Howard to a witch named Cordelia Foxx to conjoined twin sisters Bette and Dot Tattler), and films such as Mud and 12 Years a Slave. She won outstanding performance by a female actor in a television movie or limited series at the 23rd annual Screen Actors Guild Awards in Los Angeles Sunday. Her choices are rich, always interesting, and she's not afraid of unlikable or even unbalanced characters. In 12 Years a Slave, the actress's interpretation of Mary Epps, the wife of psychotic plantation owner Edwin Epps, drew gasps in theaters. Mary Epps's anger and unhappiness make her vicious, and when Paulson interpreted the role, she didn't worry about whether audiences would like her character or not.
"I was never afraid of the question of whether [Mary Epps] could be liked, because I feel as an actress it's none of my business whether you like me or not," Paulson shared during an interview with IndieWire. "It's my job to play this character as authentically and truthfully and with as much commitment as possible—no matter how horrible she is perceived and how deplorable her actions are—and they are."
That sort of mental toughness has served Paulson well throughout her life. When she was five years old, she moved with her mom, an aspiring writer, and her younger sister to New York City. Paulson's father, an executive at a door-manufacturing company, remained behind in Florida. The little family settled in an apartment in Queens; the bed was a mattress on the floor. Solo Mom Catharine worked as a waitress at Sardi's and took writing classes on the side.
It wasn't always easy. "I had a complicated home life," Paulson told the New York Times in March 2016. "[M]y teachers, predominantly my theater teachers and my English teachers, were very dedicated to taking care of me in a particular way. And in doing so, I think I developed a very easy rapport with people older than myself."
That rapport has carried over into her romantic life; the actress is in a relationship with actress Holland Taylor, who is 32 years her senior. "There's a poignancy to being with someone older," she has said. "I think there's a greater appreciation of time and what you have together and what's important."
---
Please feel free to contact us with any comments or questions.
---
Help a Single Mom in Sister Chat