Our two scholarship winners are a Solo Mom who is enrolled at George Mason University, and the daughter of a Solo Mom entering her sophomore year at Creighton University. They were selected for their academic standing and their inspiring essays found below.
When Hilary Gregoire-Hill walks across the stage at George Mason University in Fairfax, Virginia, next fall to receive her bachelor's degree, she will be honoring a yearslong commitment to herself and showing her three children that they can make anything happen with determination.
"My daughter tells me that I have literally shown her that nothing is impossible if you want it enough and if you keep trying," she says. "She also tells me that I am her biggest inspiration. To me, hearing those words means everything, and it assures me that I have done something very right."
Gregoire-Hill, a certified phlebotomist, never set out to be a single mom of three kids, including one who is autistic. But after her ex-husband died tragically and unexpectedly, she, who was just barely scraping by, was faced with being the sole provider for her children. And although going back to school and becoming financially stable seemed unattainable, she did it one step at a time.
"It's a good feeling knowing that they have seen me struggle; yet, at the same time, they have also seen that I have not given up. I have my moments, and at those times, my kids are my strength," she says. "And they will remind me of all I have accomplished, and they will tell me how it has inspired them."
After she gets her bachelor's degree in community health, with a minor in public health and a concentration in global health, Gregoire-Hill plans to jump right into a master's in public health with a concentration in epidemiology, and then a PhD. She hopes to study viruses, outbreaks, and BS4 (biosafety level 4) agents in hopes of finding cures for diseases from the flu to the Ebola virus.
See Gregoire-Hill's winning essay below.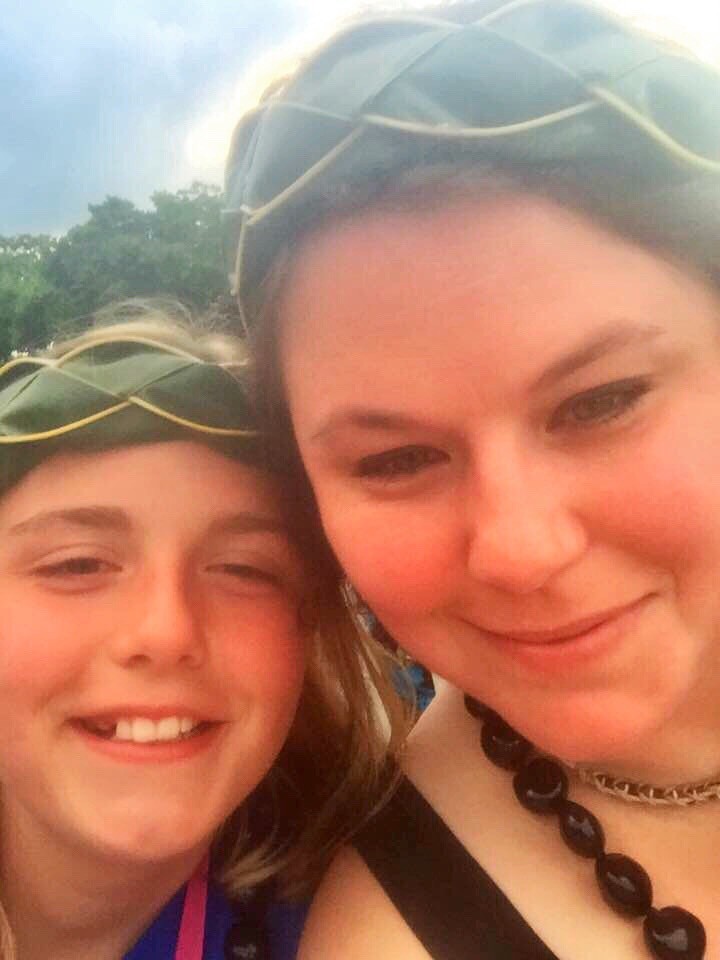 Hilary Gregoire-Hill

Angelina Manasan, an upcoming sophomore at Creighton University in Omaha, Nebraska, was just 10 months old when her liver failed for the first time. After a total of six liver failures, "the doctors told my mom that if I didn't receive a liver transplant, I wouldn't make it to my second birthday."
The only child of a single mother, Manasan was put at the top of the transplant list at Rady Children's Hospital–San Diego, but the right match was never found. That's when doctors decided to perform a "living related" transplant, then a fairly new procedure, in which a living relative donates an organ or part of an organ to another person. Manasan's mother gave a portion of her own liver to her daughter, only the second such familial procedure performed in the hospital.
While her transplanted liver thrived, other parts of her body began to fail. Manasan spent large swaths of her childhood in and out of hospitals. And her mother was right there by her side, even forgoing employment to be able to care for her ailing daughter.
"I've constantly been in and out of the hospital my whole entire life," Manasan says. "She's the one who would go with me to every single doctor appointment, every single hospital stay, every infusion."
The two learned to play cards, they read books together, and they did arts-and-crafts projects in the hospital's playroom. They'd be there for days or weeks at a time.
"It really was just us," she says. "She'd always try to make things fun and interesting while in the hospital."
Manasan's donated liver is still functioning well with the help of daily immunosuppressants. Now 19, Manasan is looking at Spanish and physics as majors for her bachelor's degree. And in the meantime, the mother and daughter who were so very rarely apart from each other are learning to bridge the distance between Nebraska and San Diego with the help of texting, FaceTime, and even Snapchat.
See Manasan's winning essay below.
Reading through the two essays, one can't help but note that even though these two women are at different stages in their lives, the similarities between them is striking. Despite the hardships they face, both are driven by sheer determination and grit. But more apparent, in both families, their inspiration is cyclical: that is, in those moments when she is feeling down, her children remind Gregoire-Hill of all that she has accomplished, inspiring her not to give up. Similarly for Manasan, it is her mother's perseverance that motivates Manasan and pushes her to be better, as she shares in her essay. The children inspire their Solo Mom, and the Solo Mom inspires her children. Probably not so surprising, though, is it?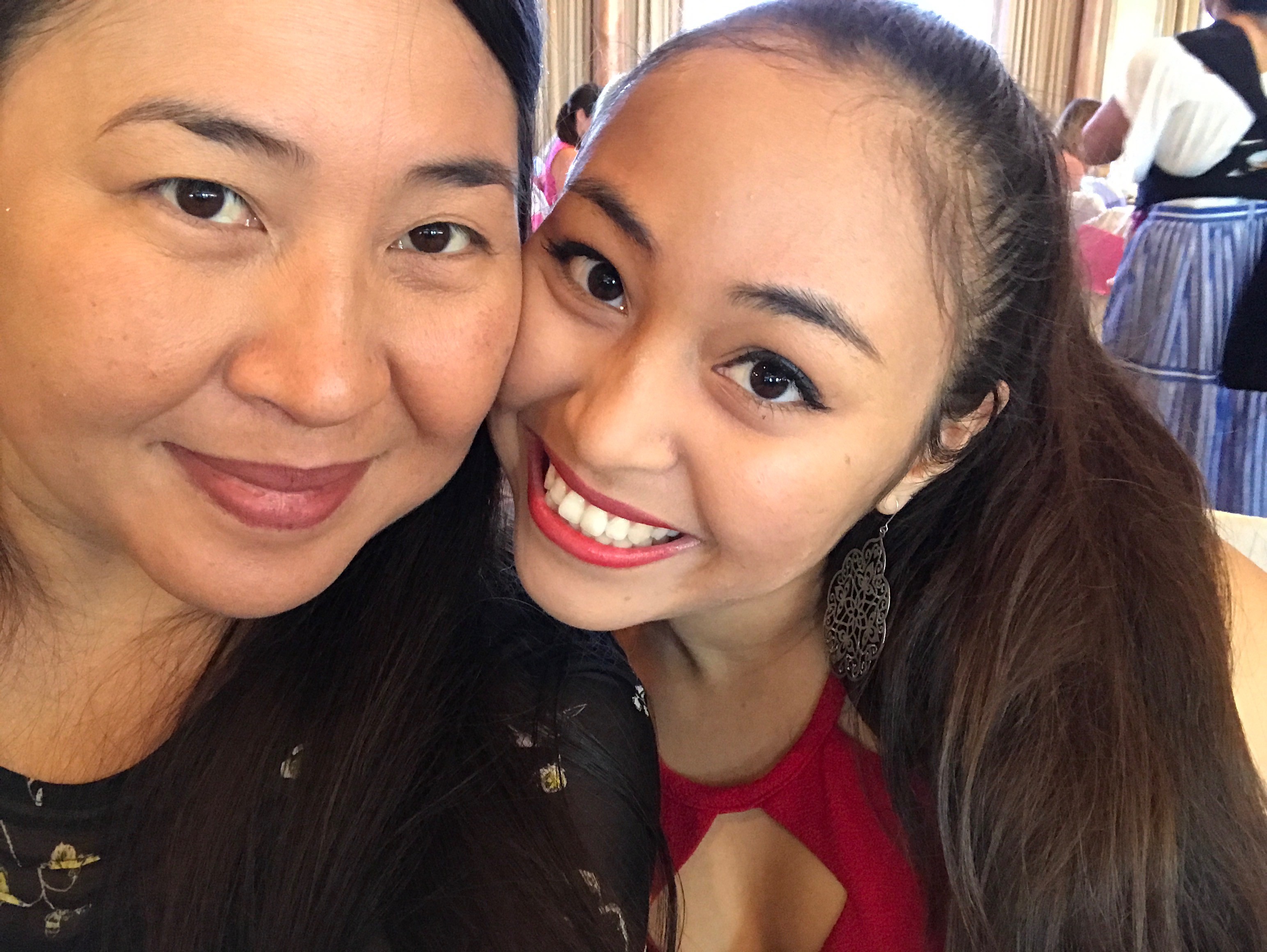 Angelina Manasan
***
Hilary Gregoire-Hill: "I Know I've Done Something Right"
I remember the day I got married. I remember the moments my children were born. I always knew I would do anything to give them the world. I never expected what life was going to hand me.
Before I knew it, I was getting divorced. Shortly thereafter, my ex-husband passed away. So, there I was, with three young children and a job that was just getting me by. My first school experience was at a trade school. I would work all day and then attend phlebotomy courses at night. I remember being so excited when I passed. I never knew how we would make it through my clinicals, as I would have to quit my job to do so. Yet we pressed on as a family and found a way. I'm not saying it was easy in the slightest. We ended up moving in with a good friend of mine until I could finish and get back on my feet. Once that happened, I was able to find work with a good company, which is where I ended up staying for the next 13 years.
I had always had dreams of pursuing my education, yet I was too afraid to try. One day, I just began the process at a two-year school. It took me four years and two job losses by the time I finally graduated. There was an entire year that I had to use our survivor benefits and my school loans and make them stretch for months on end, while working at a restaurant in the evenings making $100 a week. At that time, my rent was about $1,600. In May 2016, I graduated with honors from Northern Virginia Community College. It took me awhile and a few mistakes along the way, but I finally enrolled at George Mason University to finish my degree and hopefully end up with a bachelor of science in nursing.
All my adult life I have made the wrong decisions which, in turn, have made my life harder. I wouldn't trade it for anything. I have lived through so many things that should have broken me a long time ago. While raising my kids and working, I lost my ex-husband to suicide. After that, I lost my best friend the exact same way. I remember myself as this young girl who cried a lot. Yet I kept going. I remember having hopes of a new marriage and doing just that, only to have it fail yet again two years later. In the end, it was always just me raising my kids. My middle son, who is now 18, has autism, so life with him was very challenging, from daily meltdowns to being kicked out of schools. I had to attempt to juggle maintaining a job while making sure that he was well situated. Between his acting out in school to going to doctor appointments to fighting with the insurance company, which would never approve any therapies for him, it was exhausting.
This brings us to today. I look back on my life and see how it has molded me. I cried many tears, but I kept moving. I had to. I had little ones who needed me. I was loving all the time, reading bedtime stories to being the authoritative boundary-setting mother when needed.
I realized the strength I have in me is greater than most. I have seen other mothers fall apart when their husbands leave for a few days, and they are crying to me that they can't take it. I am empathetic to them, yet I have that "Really?" look, as if to say, If you only knew.
I learned that I can take the late nights of studying and still get up and be mom and get myself to work. I have learned that I can accomplish my goals if I don't give up on them. I learned that it is OK for the house to be a mess occasionally—the world will not stop turning if it is. I have learned to spend some downtime with just myself and to not be so critical of myself. I have learned that it is OK to make mistakes, be it in school or work or life. I learned that from every bad choice I make, there is always something to learn from it to help me grow into the person that I am currently striving to be.
When my daughter comes to me and says to me that I have inspired her to go to college; that she sees all I do and if I can do it, she can; and that she is proud of me, I know I have done something right.
Angelina Manasan: "Beyond Grateful"

Nanay,
Where do I even begin? Yes I know that I have complained to you about my classes and how much I dislike some subjects, or how you wake me up in the middle of the night to go see meteor showers in the middle of nowhere, or how I do not want to learn how water sticks together in our kitchen as you place a few drops of water on a penny.
However, these are the times when I look back and realize that these are some of my favorite memories with you. Along with all the random fun stuff, you have been there for me every step of the way. Starting at the transplant, you were the one to step forward and go through the surgery, for the living-related liver transplant, and donate half of your liver to me. You went with me to Ohio for my specialized testing, held my hand through every feeding tube or IV, walked me to the operating room every time, and stayed with me during every infusion. You were the one who wiped away every tear, held my hair back when I could not tolerate food, and gave me hugs at the times when I needed them most.
Every step of the way, you have been by my side, and I cannot think of one memory where you were not. Outside our hospital life, you were also the one who tutored me in all my classes when I missed them, stayed up with me during the late nights, and made me coffee for all those long hours. You helped me across the finish line for academics; you were the reason why I was able to graduate from school. All the long hours I spent in clubs and theater was to help me build a good résumé to ensure I could get into college. You are also the reason why I am going to college. On the late nights when I think about quitting college, you are the reason why I keep pushing through and why I strive to get my good grades. There are so many opportunities where I know you could have given up, but you never did. That same perseverance that you have is what motivates me, pushes me to be better, and is what I strive for.
Now, after our long, hard-fought journey, here we are for the first time separated. Although right now it is hard, in the end, it will be worth it. With an education, I will be able to get a good, stable job and take care of you. My whole life, you have always put me first, cared for me, and did whatever possible to make sure I was provided for and happy. It is now my turn to return all that you have done for me. It will be my job and privilege to take care of you the way you have taken care of me my whole life. I will be the one to make you dinner, to do all the laundry, and possibly even give you an organ (hopefully one that I will not need). You are the reason why I think about what profession I should go into, not because of where I want to live or how I will provide for possible children, it is for you. I think of how I will be able to support you, and not just when you are gray and old, but for when I am able to take care of both of us. I am beyond grateful for everything that you have given me and know that there is nothing that I can ever do to repay you in full.
I can only imagine the countless late nights for you and how hard it must have been to raise a chronically ill child by yourself. I know you have always put me first and yourself second. You will no longer have to worry anymore because now I am here for you, to take care of you, and to love you the way you have always loved me. I intend to work hard to make you proud and to take care of you. All your hard work will be worth it, and that is one promise I will make.
Mahal kita, Nanay,
Beans
---
Sarah Netter, ESME's Adoption Resource Guide, is a single mother by choice to a fabulous little boy, one neurotic Italian Greyhound, and two Spanish Galgo puppies. She is a full-time journalist whose work has appeared in the New York Times, the Washington Post, and ABC News.