A Solo Mom's solution to family vacation
When I separated from my husband a year ago, our children were just five and one. Any divorce involves mourning the life you'd expected, and for me, that included all the family vacations I'd imagined. Traveling with two small children on my own, when even a trip to the park could be fraught? Maybe in a couple years, I reasoned, but not now.
And then, one cold January morning as I researched summer care for my oldest, I learned about family camp: a sleepaway camp for kids and parents, where a lot of typical adult responsibilities (meal prep, activity planning, cleaning) are taken care of. There was one not far from us, in Starksboro, Vermont. As the snow fell, I signed us up.
Fast-forward to July, when the kids (now six and almost three) and I arrived for family camp at the Common Ground Center. Nestled among green, forested hills with a creek on one side and mountains on the other, it is far more picturesque than I'd dared to hope. The buildings are made from local lumber, hugged by porches and plenty of rocking chairs to go around. Hammocks and Adirondack chairs dot the grounds, which include perennial gardens; two playgrounds; a blueberry patch; a swimming pond; and, of course, the lodging: from basic tent platforms to a lodge with all the amenities. I decided we'd take the middle route.
Our cabin was perfectly rustic with bunk beds for the kids, some hooks and shelves for gear, and large, screened windows that let in the rustling sound of the trees and a cool breeze.
A central bathhouse provided the necessary plumbing and electricity. While indoor bathing is offered, I became quickly devoted to the outdoor showers.
Relaxed routine leads to restoration and togetherness
After coffee and breakfast, children head to Kidville, a morning program for kids aged three to 12, with enthusiastic staff. Kids can choose from a wide range of activities, including cooperative games, arts and crafts, team sports, exploring nature, building fairy houses, and so on. For three blissful hours, I did whatever I wanted. Qualified instructors lead classes in yoga, printmaking, glassblowing, tennis, and more. But I also made time for reading, taking a long shower . . . whatever. By lunchtime I was feeling restored and in love with my kids again.
After lunch, a designated quiet time allowed my youngest to nap. The six-year-old sometimes got a bit of screen time in his bunk, but by the end of the week, he was more likely to go off with another family to play.
Post-nap we enjoyed family art classes, such as basket weaving and tie-dying. We often capped the afternoon at the large pond, where three certified lifeguards made it possible for my oldest to swim freely while I stayed in the shallows with my youngest.
Each evening there was a different activity, and while I'd assumed we might skip them for some quiet book reading and bedtime, they proved to be too much fun. A contra dance one night featured a full band, an elaborate game of Quidditch involved nearly every camper, and of course toasting s'mores by the fire was too tempting to miss. The kids were up hours past their usual bedtimes, and although there were a few meltdowns, it also meant that they slept in much later, too. Heaven.
No cooking, no cleaning, no rushing through meals
The luxury of not having to think about food prep once—for an entire week—was something I hadn't experienced since my own childhood, and I highly recommend it. We simply arrived at mealtime and filled our plates. And then refilled them because the food was amazing. Our first lunch was an Indian feast; one night we had authentic Thai; another night we had Greek that featured the best baba ghanoush of my life.
Dinners were accompanied by "Games for Fast Eaters," essentially a way to keep kids busy while parents enjoyed dinner. Creating giant bubbles on the lawn was both entertaining and beautiful.
Homemade desserts were served on the grounds at the site of whatever activity was being offered, against the backdrop of the setting sun. All food was vegetarian (though this carnivore didn't miss meat once), and there were plenty of gluten-free, dairy-free, and other mindful options.
Family camp provides an instant village
In the months leading up to camp, I worried that I might feel out of place and possibly be painfully reminded of my newly single status, surrounded by happy nuclear families. That wasn't the case.
First, I was far from being the only solo parent. And second, the activities lent themselves to community. At orientation, I immediately connected with others, and that engagement continued throughout the week at art classes, communal meals, and free time at the playground and pond. In fact, it was far more convivial (and less lonely) than if I were just taking the kids for outings around town.
So often we put up walls with others when we're out in public, confining ourselves to pleasantries and keeping up appearances that everything is going great. In truth, this past year was a rough one for our family. There was no need to pretend I had my new life under control because frankly that was impossible.
At one point, my six-year-old had a huge meltdown after his team lost at Quidditch. Before I could reach him, two of the counselors from Kidville were at his side. They weren't on the clock; they were just good people comforting a kid they knew. Another evening, as my youngest was melting down at dinnertime, several families offered to help, and a kind staffer brought us plates of food outside, where I was rocking my son.
And you know what? Other kids had meltdowns, too. And so did a few parents (myself included). Who among us actually has life under control? We're all just one missed nap away from chaos.
The acceptance and support I found at family camp allowed me to relax and enjoy myself, even through the tantrums and tears. That's something I've carried home with me, along with my monoprints and tie-dyed shirts: this ability to feel like I'm OK, like we're OK just how we are, this new family of three.
Choose your family adventure
Each of the following family camps is welcoming to single parents. Check individual websites for more information, including prices—which include meals, a range of accommodations, activities, and child care.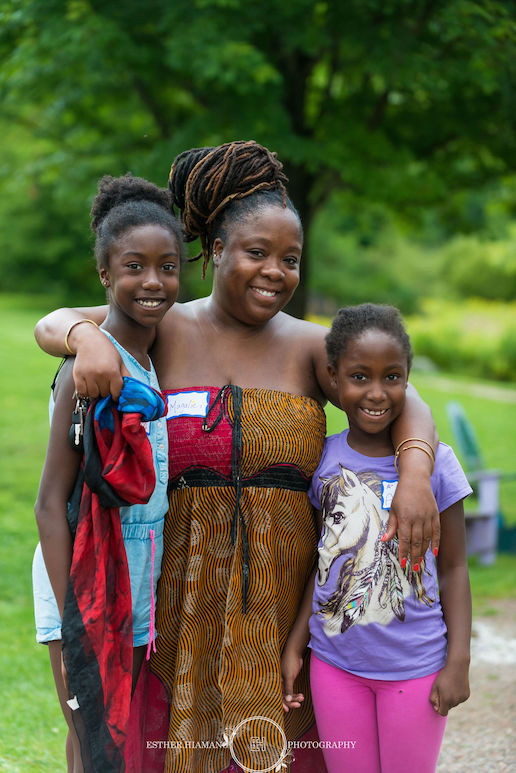 Starksboro, Vermont
In the Green Mountains of Vermont, visiting artists and coaches offer classes in glassblowing, printmaking, tennis, yoga, and more. Outdoor showers and a pizza oven are nice touches.
Note: Common Ground charges on a sliding scale and offers financial assistance.
Ely, Minnesota
Tucked into a pristine wilderness on Burntside Lake, offerings include yoga, massage, a sauna, canoe and kayak excursions, nighttime trips, add-on wilderness adventures, and (winter) skiing.
Kings Canyon National Park, California
Situated between two national parks, this camp features several groves of giant sequoias. Other highlights include wood-burning stoves in the cabins, horseback riding, and sailing on Lake Homavalo.
Have you been to a family camp? How was it?
---