A Solo Mom pushes herself, and it pays off
With my daughter, it was easy. In her teens (aka the pulling-away years), all I'd have to say was one word, "shopping," and she was game for an entire day with mom. When she went off to college, I was distraught, but also left to luxuriate in my alone time with my 14-year-old son. Or so I thought.
For any single mother, raising a boy without a man creates an endless stream of conundrums: boy stuff, hormone stuff, sex stuff, power tools . . . we face them one by one. We find the answers. We manage. We laugh and love our sons to bits, while collecting a library of crazy stories the scenario presents.
But during their teenaged years, when our sons are in full grasp of their own opinions and wants, the gap between son and single mom can feel like a heartbreaking chasm. Yes, it's nature. But let's face it, it's different for women who don't have a partner with whom to travel the world in their empty-nested golden years.
It's a conundrum.
In my early search for male role models, I stumbled upon surfers. It should have been obvious, as I'd always been fascinated with surfing and the water warriors who mastered the sport. But I was terrified to try it myself. I was terrified of the water.
A visit to the local surf shop with my then-young son was a spark to the match that would ultimately fuel his life, a lucky spark, as the surf culture is now one of clean living: no alcohol or drugs, juicing, fresh and healthy foods, fitness, and college! When he was 10, I enrolled him in surf camp. From that point on, he was hooked. The surfers stepped up, delighted in my son, taught him how to surf . . . and to be a good man.
The new conundrum? I never saw him.
From the time he was old enough to bum a ride to the beach, he did. Every weekend he'd surf, come home, collapse, watch a little YouTube, and go to bed. I'd get a few grunts of hello and goodbye, but not much else. I suffered from premature empty-nest syndrome.
Even worse, I was jealous my son could surf and I could not.
I'd hit the point in my life when I'd begun sniffling over photo albums of "what was," as opposed to dreaming of "what could be." I was caught in the invisible years—a pivotal time when our littles leave the nest, our monthly periods leave our bodies, and our dogs and parents start to die; when we are plump with feelings of grief and loss, and thoughts of, Where did the time go? But it was also a call to arms to move. Now! Do something! So I did.
At 51, I learned to surf.
It wasn't pretty. It was pitiful, in fact, and wholly terrifying. But I missed my boy and would not give up! I'd already given up on so much in life. I was afraid of the water but more afraid of more regrets. And damn it, if I could push two babies out of my vagina and raise them on my own, I could get on a piece of foam, paddle headfirst into a wild and unpredictable sea over and under waves that wanted to beat me to the ocean's floor, then stand on that piece of foam and ride it in without crashing into rocks, killing someone, or drowning.
A major conundrum.
After countless tries: days and days of falling, pulling myself up, falling again, paddling out, bleeding, bruising, swallowing buckets of salt water, seasickness, vomiting, and tears . . . I finally stood up—and stayed up. I could hear the other surfers' cheers and once again considered what could be. And when I saw the smile spread across my boy's face the first time he saw his mom surf, I remembered what it felt like to experience joy.
I will never be a great surfer—probably not even a mediocre surfer. But I can surf. And once a week my son and I make the drive to Malibu. He delights in surfing next to me. Inevitably, he yells, "Mom!" and being a mom, I instinctively turn, fall, and yell at him in turn. Then we laugh. He tows me back out through the waves, so I don't have to work too hard. Then we do it again and again and again.
After, soaked and soggy and bone-tired, we go to lunch and then listen to music during the car ride home. He sings and plays me his favorite songs, and once back at the house, reverts to grunts and shrugs until the next time
Perfection.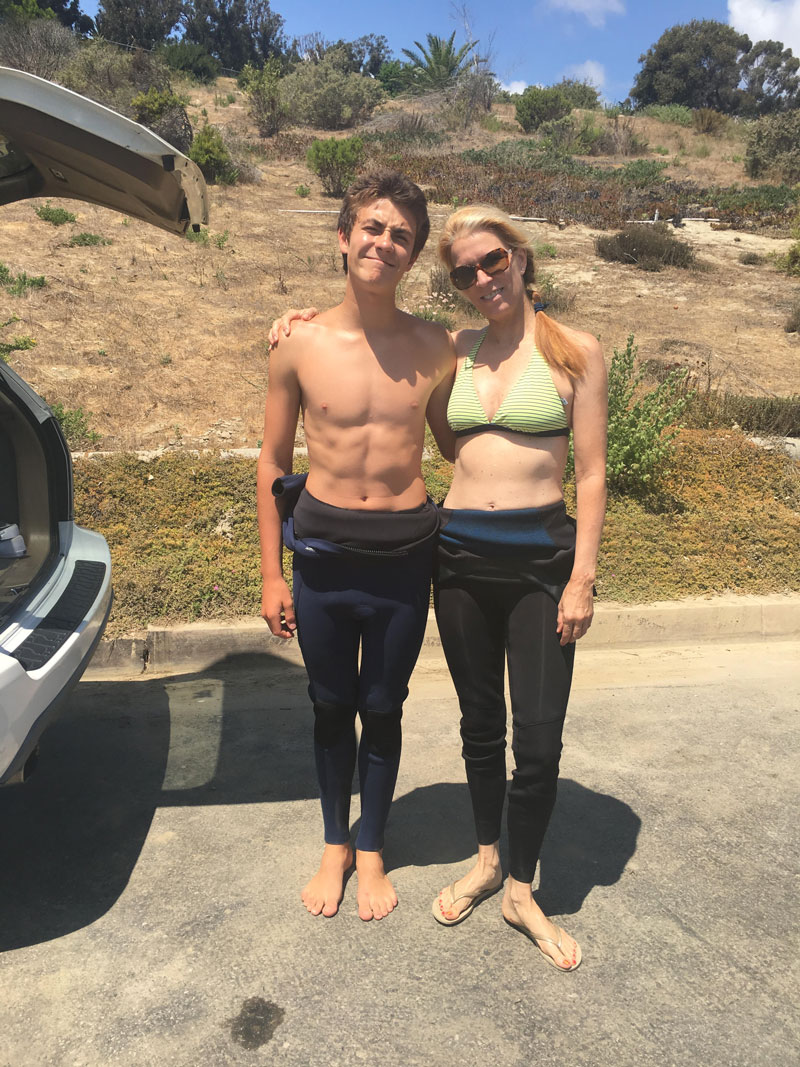 And though my boy will be with me for only three more years before stepping out of the sand and into the concrete world, I can see my life beyond. I will surf. I will build a new community, a different family on the water. My son will visit—and we will surf together, forever, and dream of the future and the perfect wave.
How do you connect with your son?
---
Kathleen Laccinole, ESME's Dating Resource Guide, has penned numerous films and parenting books but is best known for producing the highly lauded Greta, age 20, and William, age 16.
Please feel free to contact us with any comments or questions.